Some of them are a bit blurry but I can't be arsed to get them out and take another photo!
The greens are from my Pojey collection
The blues are from my Pojey collection, the top two are heads up from Lurky all though the reds turned out to be a 7 and not a 6 but they come in handy for the football (Forest fan) in winter, I can get at least 3 pairs of thick socks on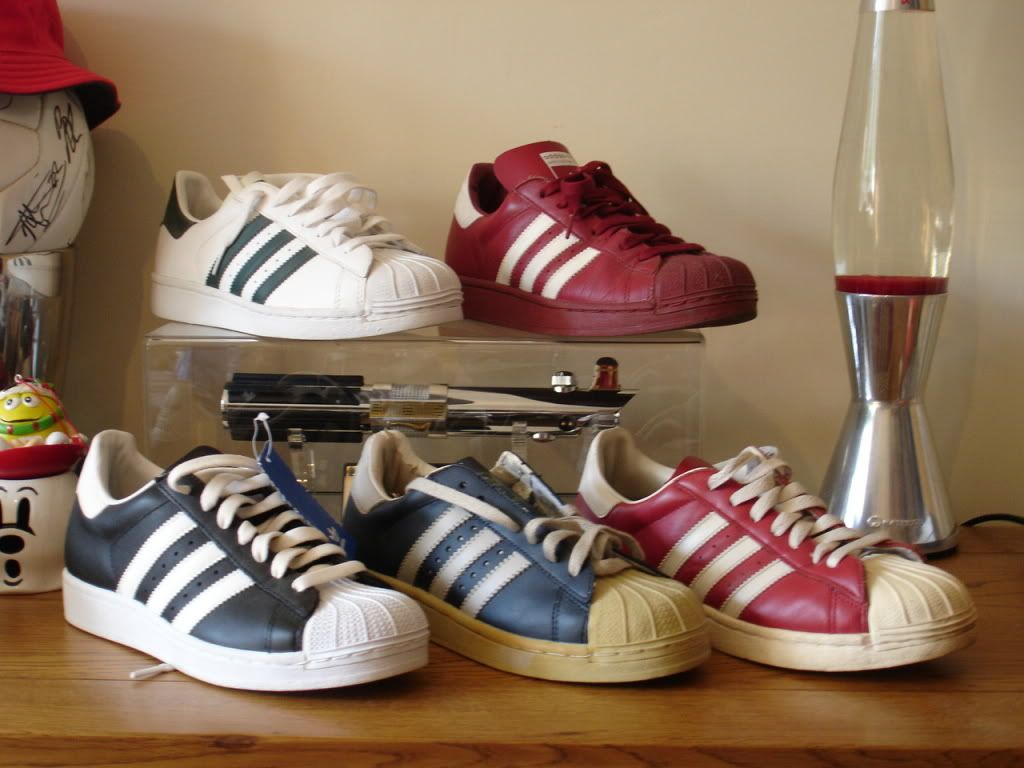 Doubled up on my snakeskins
More from the Pojey collection
Metals, orange and blues from yes you guessed it Pojey and the reds came from a heads up from him
Nylons
Hempy canvas jobbies, left 2 from the Pojey collection and top right came due to a lot of help from Fritze but how wearable they are....not sure, there are patches of the sole that have gone a much darker colour and are more of a solid plastic than rubber and are splitting due to the inflexibility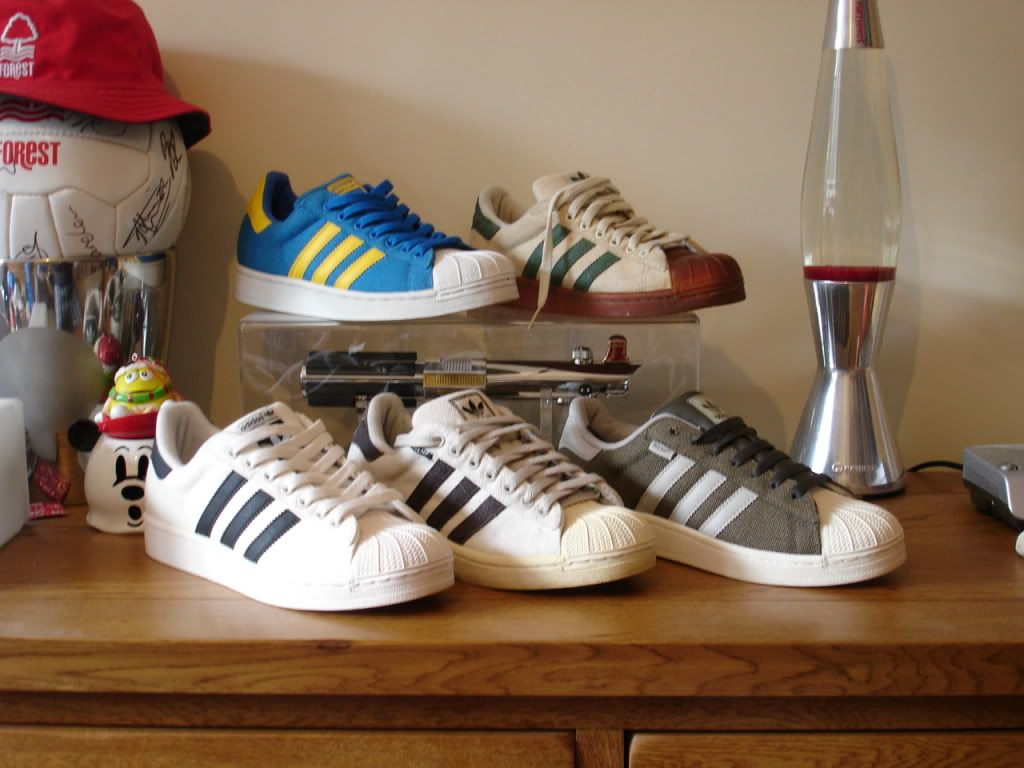 Pats, thanks to Robert for the help getting the light blue ones
Vins
More Vins, Thanks to EA for snakeskin ones
Pretty coloured ones

top 2 from the Pojey collection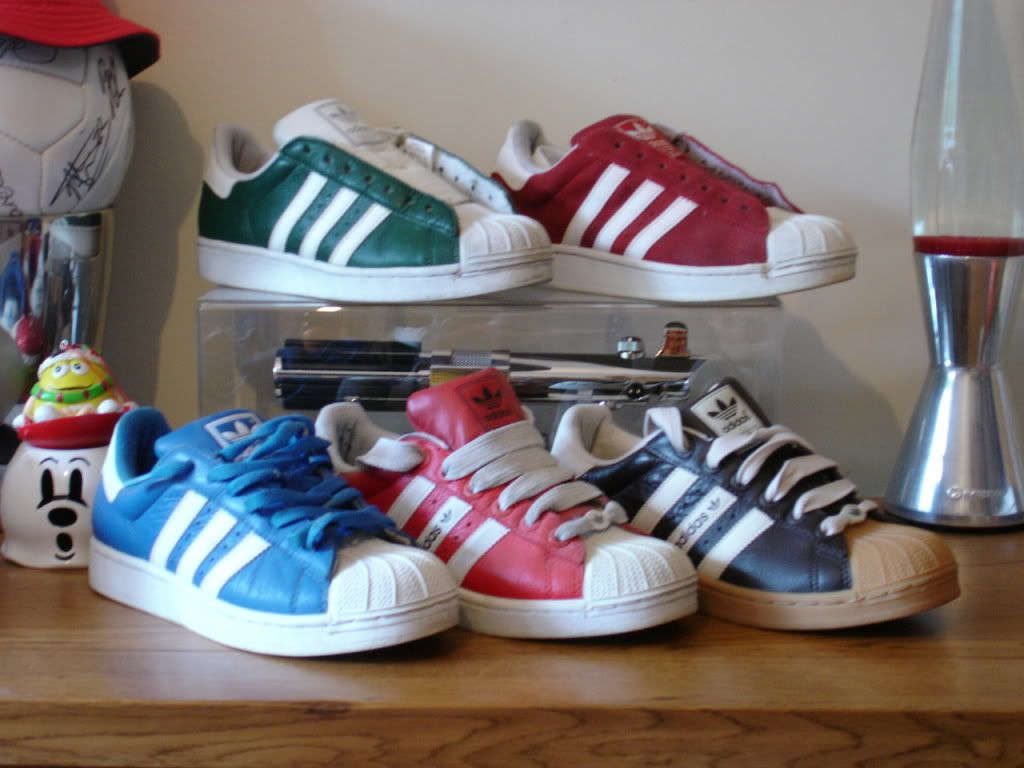 SS2, greens thanks to Pokey and the bottom reds thank to Lurky Via Sab
More ss2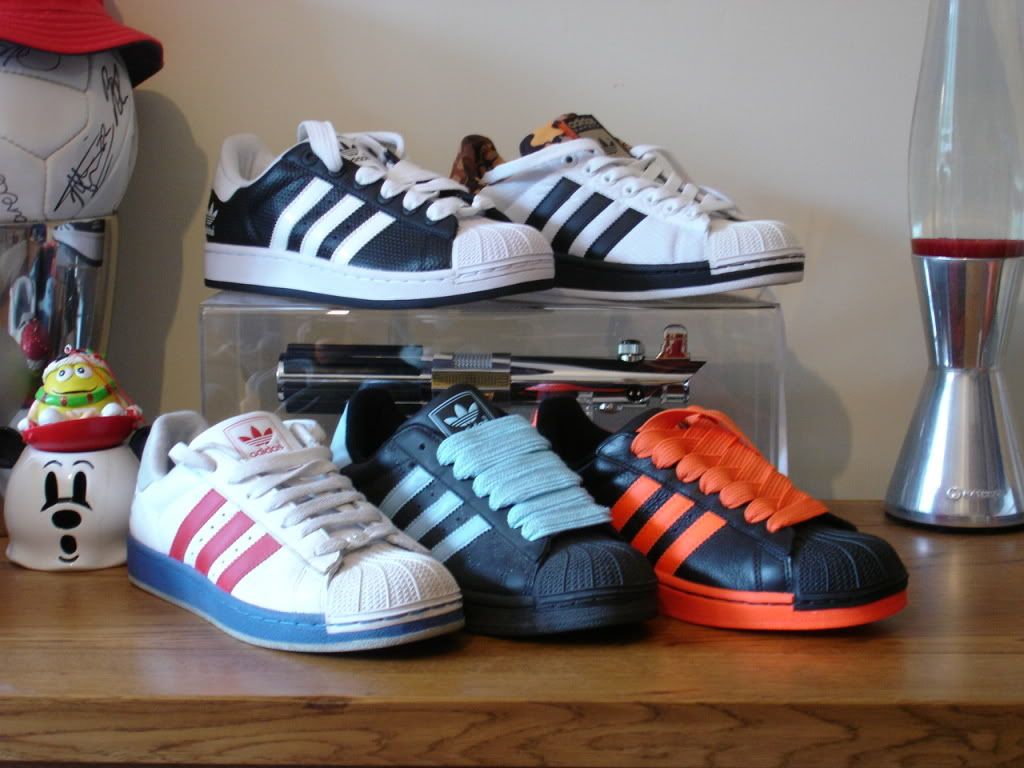 Old style skates
New style Skates, thanks to SK for the top left
NBA, thankfully 2 years in the loft and the Spurs no longer smell of dog piss!
More NBA, rockets from P.C
80s, greens thanks to Cracky and reds thanks to EA
More 80s, yellows thanks to Fritze
And more............
Adicolour jobbies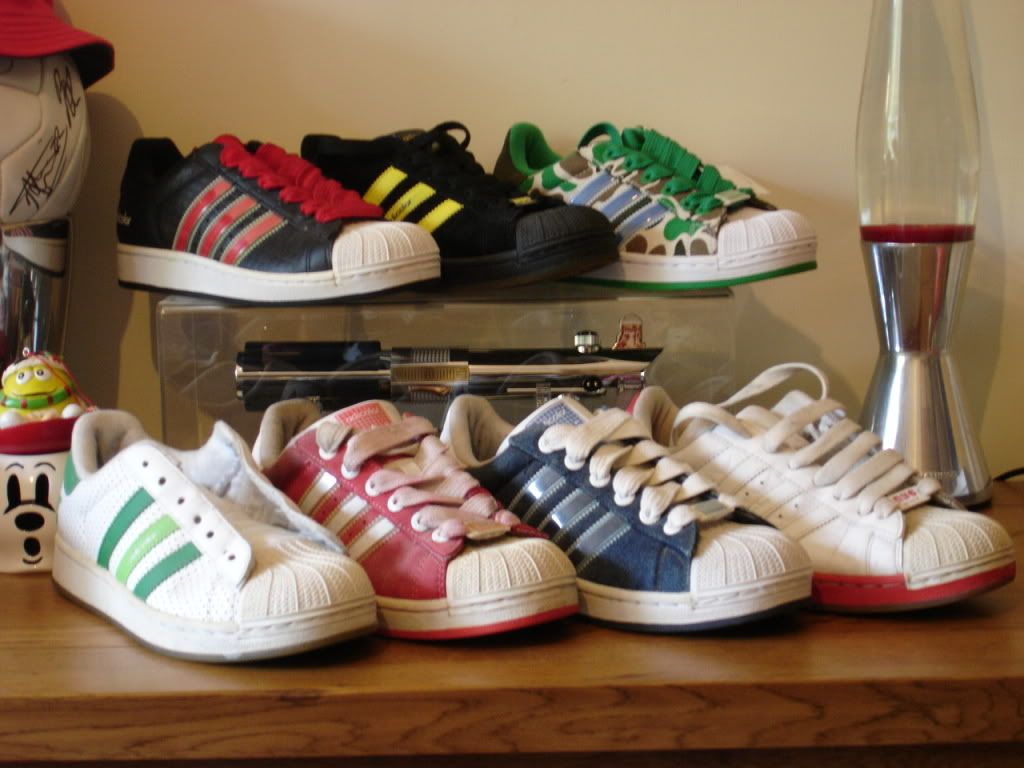 Bits and bobs, bottom middle are my summer/winter beaters, bottom right from the P.C via a third party

City series
Music
Other 35ths
Consorts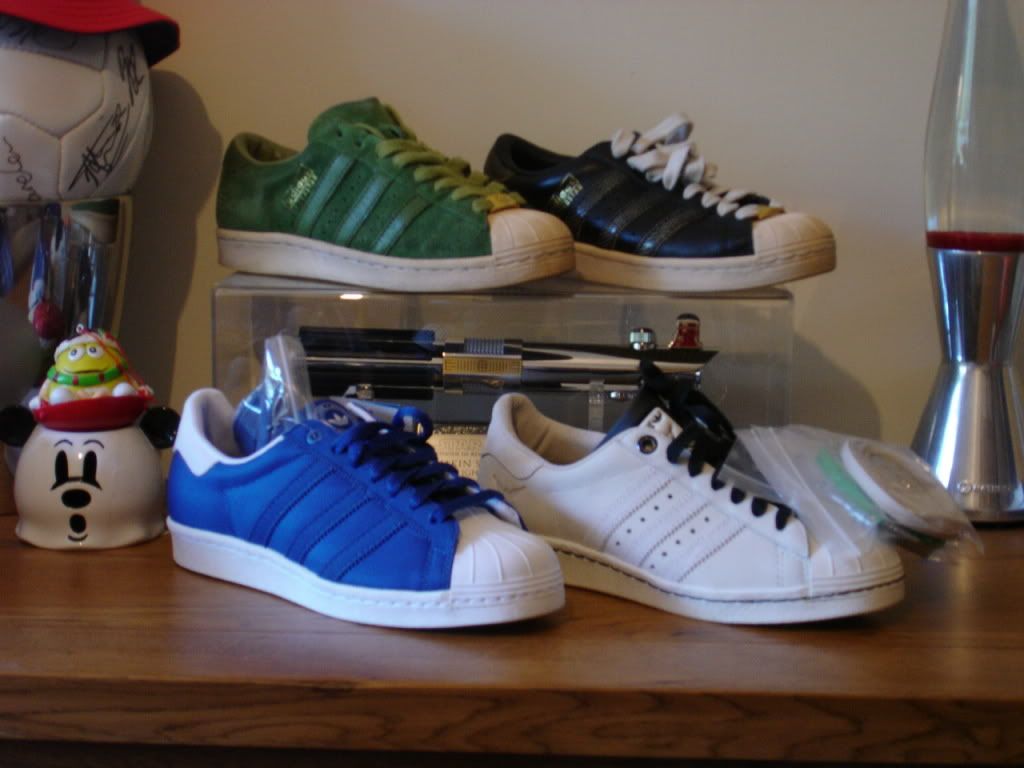 My other adidas, quite like the goodyears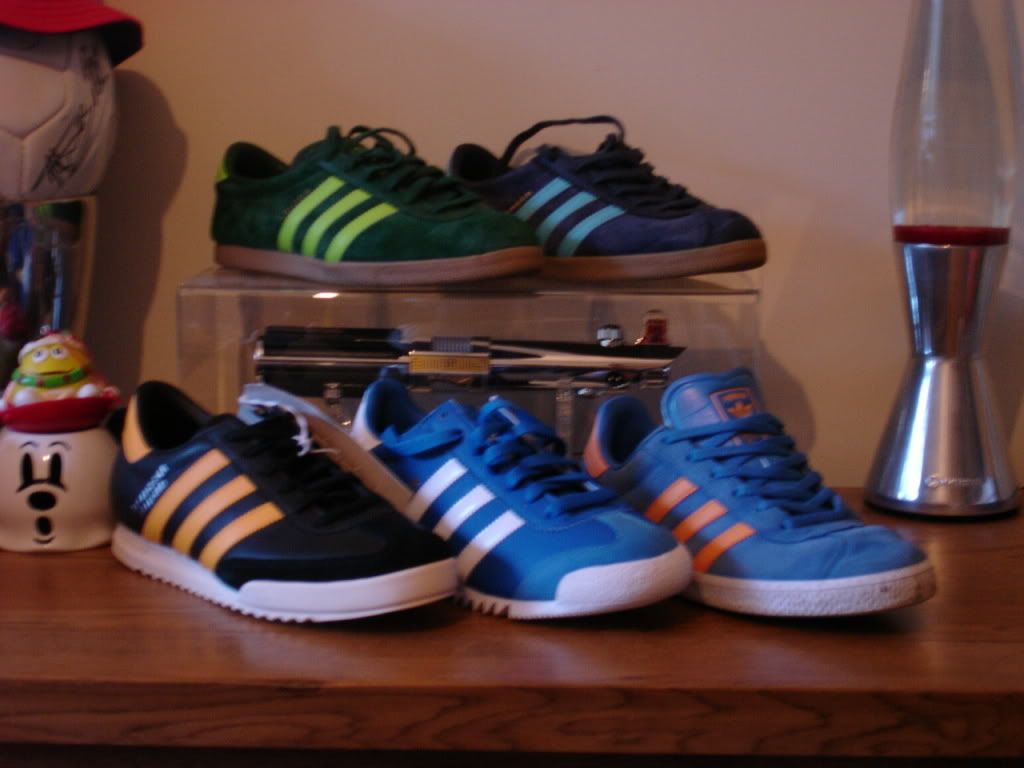 Got the footpatrol campus, thanks KT, niko and GeeBee
My furry little helper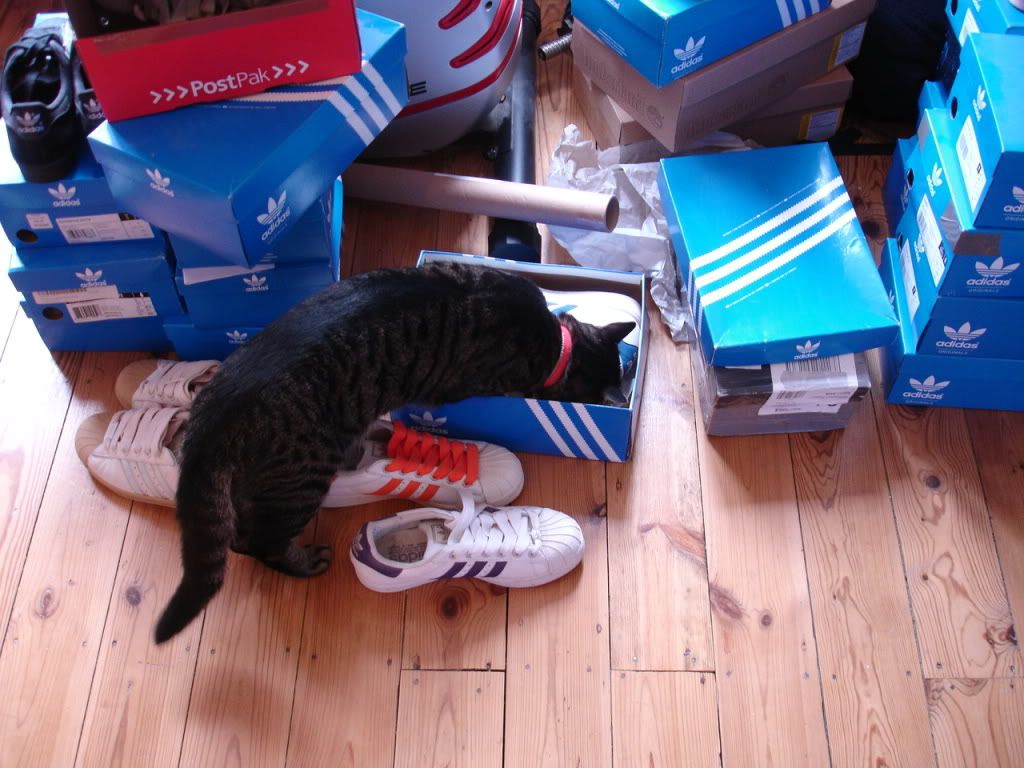 Thanks to all those that have helped me out fake spotting, heads up etc that i've missed, Sk8 has helped me out with several pairs but I can't remember which

and bluemoon and kuoehero or something like that

Now to clean and re-lace them all!
I know most of you hate the 2.5s but it seems you can you them to grow glitter

I have no idea what it is but its only on them