a long story

Hi All. A sad day at olskool's house last week. Burglarized. It could've been a lot worse. So not sure if they got spooked and left before they were really done, but I'm fortunate that the loss of property was fairly minimal.
Here's some pics of parts of the chaos.....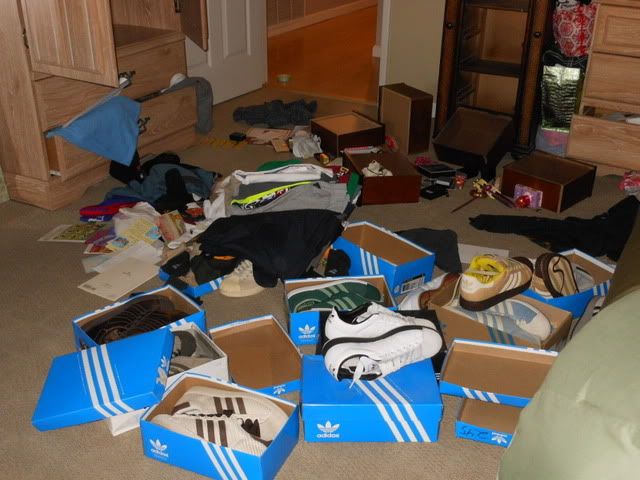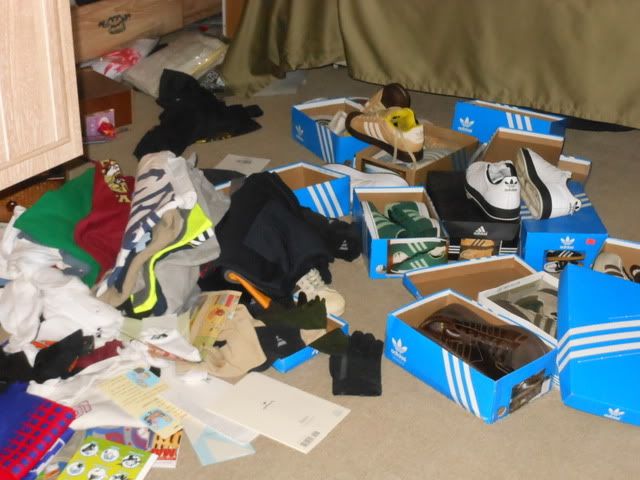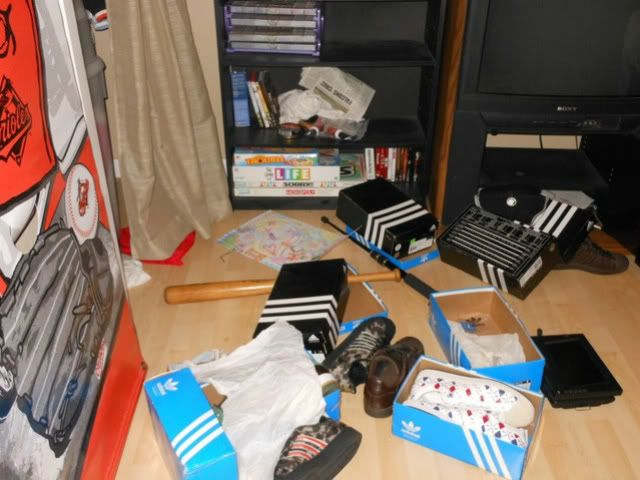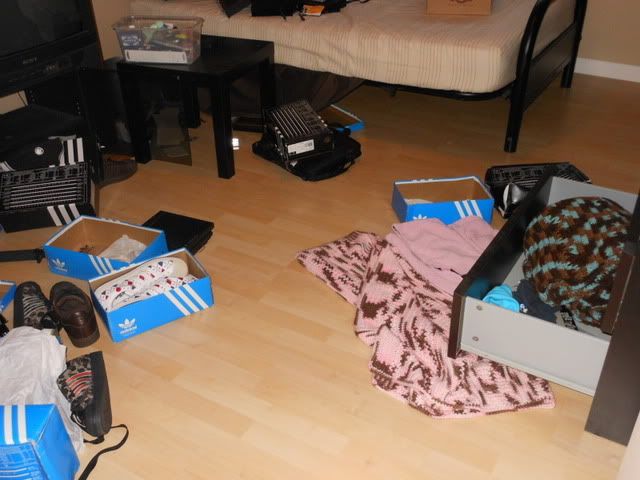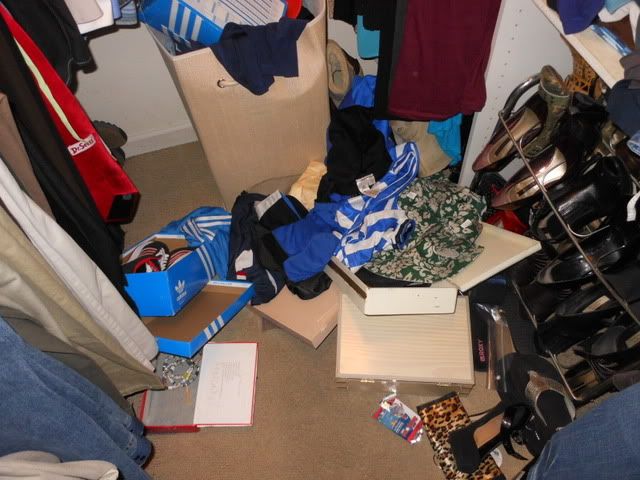 Lesson #1.... Keep a tidy house.
My 16yr old daughter came home from school and entered the front door. She took three steps inside, saw the chaos, turned right around, and ran a few houses down the street to our friends and called me. As soon as she walked into the house, her first thought was "my mom and dad would have never left the house looking like this". I was very proud of my daughter for making this instant decision. Sometimes, people don't react on their first instinct, but my daughter did. Better to be safe than sorry. So, it always helps to keep a tidy house because it's makes it easier to know when something is wrong.
Lesson #2.... document your electronics
When the police arrived, it was EXTREMELY helpful that I had all of the boxes of the few items taken so that serial #'s could be reported as stolen. Electronics stolen included: netbook, digitial cameras, Wii, portable harddrives, iPod Touch, and a GPS. Two days later, some young punk school-aged teenage Norteno (spanish for Northerners) gangsters were caught stealing a bike. Since they were already on probation for burglary, they each had "search and seizure" on their file. At their house, the officers ran a check on some electronics found and BOOYAA... they were mine! So, I got back the Wii, netbook, portable harddrives, and iPod Touch. Take the time to document model #'s and serial #'s of your electronics. It can be very helpful!!! I also etched all of my items with a code, so that helped also since burglars will try to delete/remove serial #'s if possible.
Lesson #3.... mark your Superstars!!!!
As you see in my pics above, the burglars opened nearly every single box of my Superstars. Officers theorize that they were looking for cash. So, the 20 boxes under my bed, the 10 boxes in my closet the 10 boxes in another closet... all opened and mostly just dumped on the floor. After nearly an hour of putting shoes in boxes and clothes putting away, these four models were taken. Took the Supes and left the boxes (recycled pics)...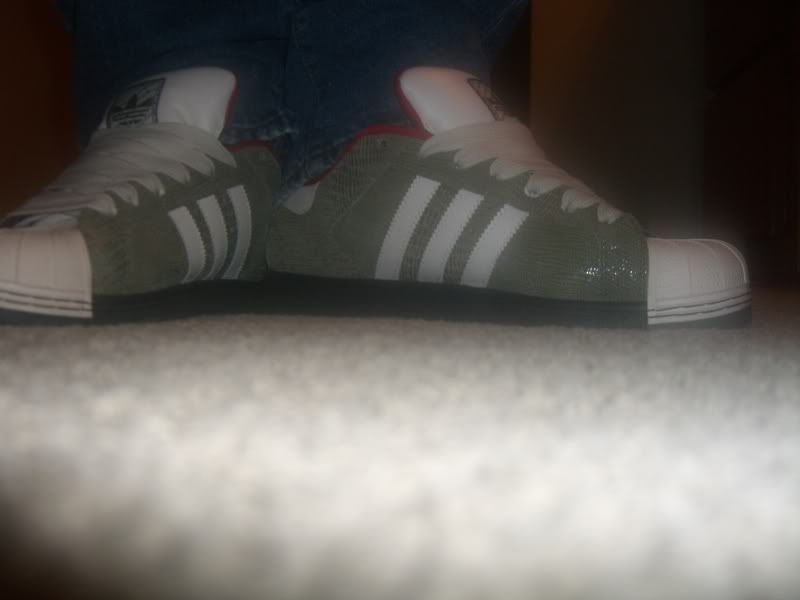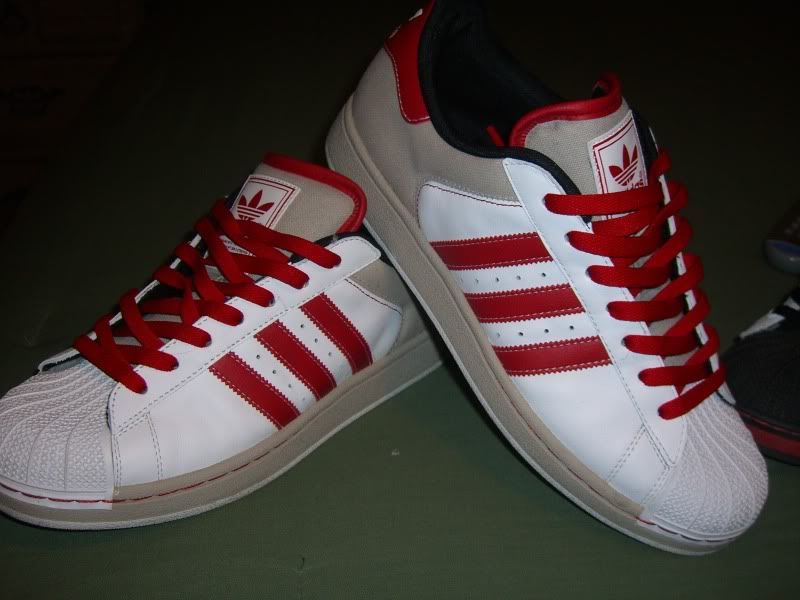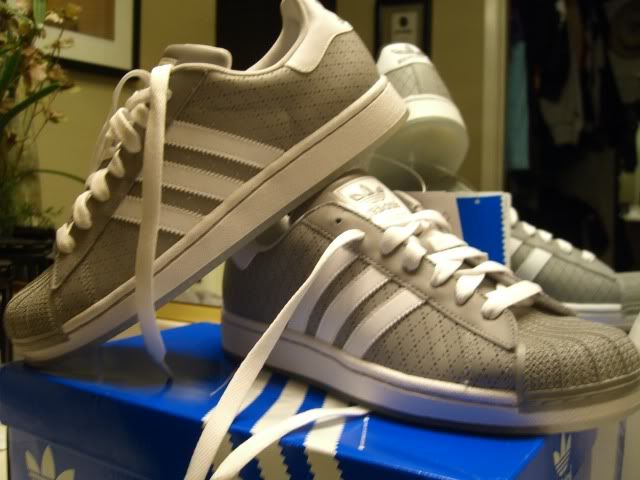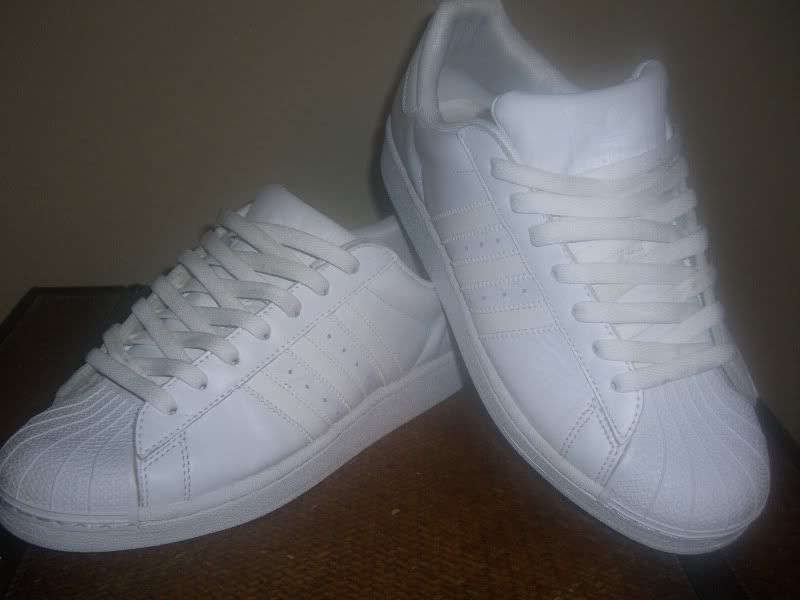 So here's the cool part leading up to the lesson learned!!!! Knowing that the thieves were high school aged gangsters AND that I work at the local police department (I'm a crime analyst), I created a flyer using the pics above and sent the flyer to the officers, especially the school resource officers that are stationed at each of our high schools. Knowing that the kids want to wear something that no one else has, I just had a hunch that these idiots would wear them to school to "show off". And BOOYA again..... one kid did. A different gangster of the same gang (since the other two were already arrested of possession of stolen property) actually wore these to school the other day and the officer noticed them from my flyer.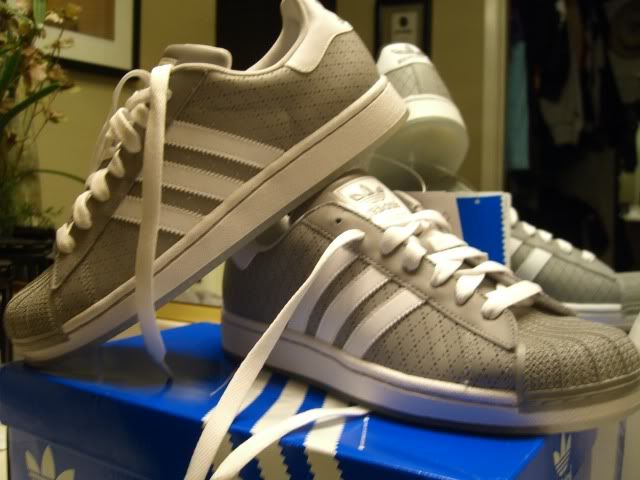 So I got these back. But this is how they looked



Damn hoodlum gangsters. Couldn't even take care of them. They are in worse condition than the pics show.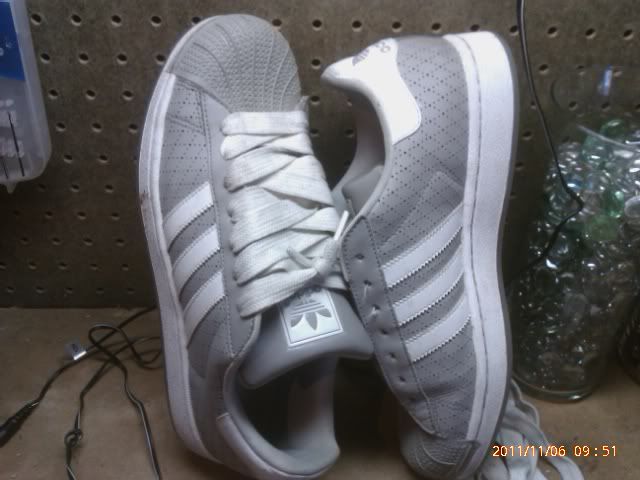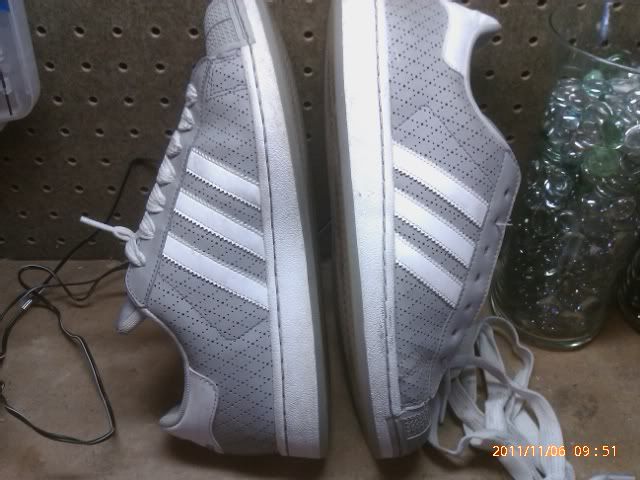 When questionned where he got them, he replied "Foot Locker at the Mall". The detective went to the mall and asked the manager and he said that they never sold that model there.... which is what I already told the detective.
Then JUST YESTERDAY..... I got these back....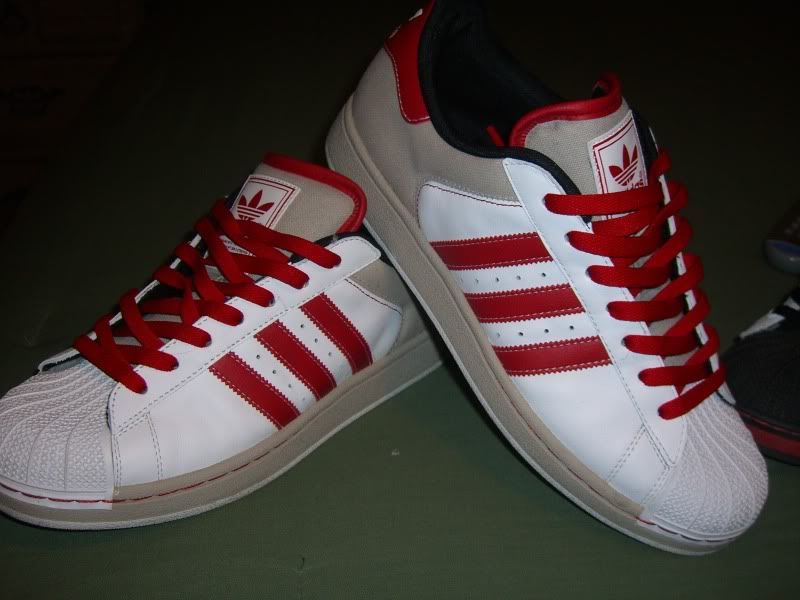 .... but I had to do my own police work. Like I said earlier, I knew that some teenager would be stupid enough to wear these shoes out in the public just because no one would have them. Ever since the shoes were taken, I have looked at the feet of every single high school aged looking kid that walks in front of me whether I'm at the mall or the store or just walking back to my car when coming/going from work. So check this out. Last night, I'm sitting at a red light at about 8:30pm. No joke. A kid on a BMX bike crosses RIGHT in front of me WEARING MY SHOES!!! Incredible. I get on the phone with police dispatch as I'm following the kid for nearly a mile in our downtown area as he's just riding all over the place. The officers arrived and stopped the kid. Asked him where he got the shoes, he replied "Sheikh" (which is another store at our local mall). I told the officer the same thing... Sheikh has never carried that model. PLUS... my pair had a distinguishing mark that I remember.... a small grass stain on the rear heel. There was the stain. BOOYAA... another pair of shoes back!!! But sadly enough, this gangster, just like the other gangster, didn't quite take care of them. The picture doesn't show the real devastation done to these Superstars.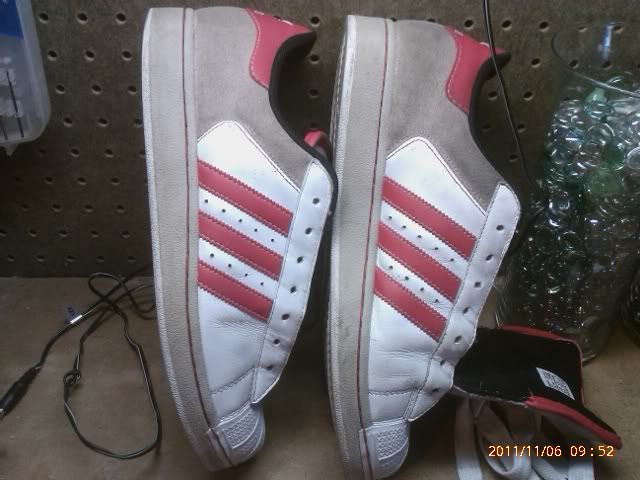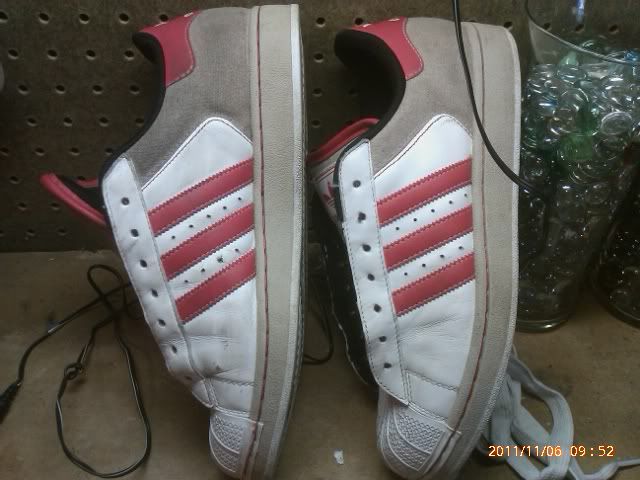 Lessons learned about Superstars.... if you truly cherish your Superstars,
you've got to mark them
. I have begun marking all of my Superstars. I put a blue Sharpie dot over the word "in" on "Made in XXXXX" on the tongue tag..... AND.... I lifted the sole in every pair and used the same blue Sharpie and wrote a huge "E" on the bottom of the shoe. Theives may notice the blue dot, but they may not think to check under the sole. You've got to have a way to know that stolen pair of Superstars are yours. Fortunately, I still had the boxes for each pair. I even have a pic of each pair on my box. Plus, another lesson....
keep your own "Members Collection" thread current!!!
As soon as I was able to figure out which Supes were stolen, I came straight to SSDB to print off/copy/paste copies from my Member thread to create the flyer!!! All of my Superstars are now marked in two places on each shoe. I'll update the thread later with a pic of the "marks" that I put on each of my Superstars.
In the end, these two models are still missing in action.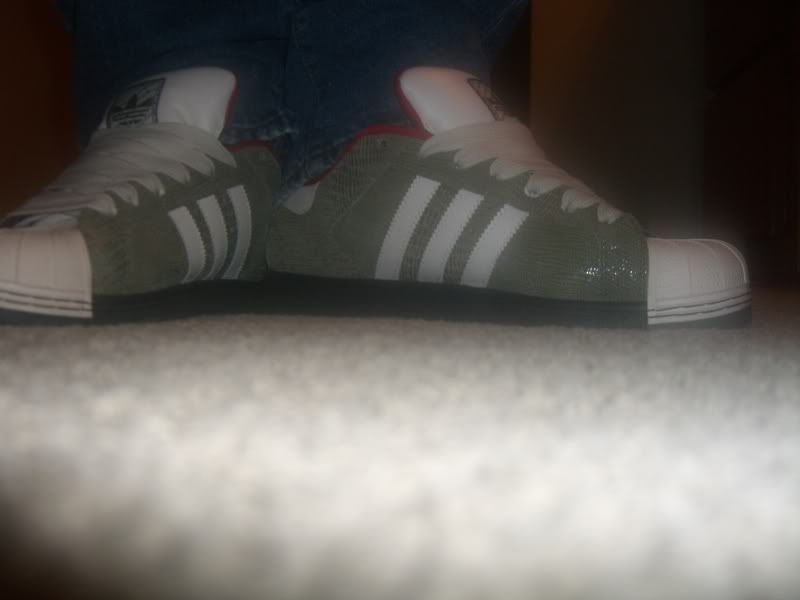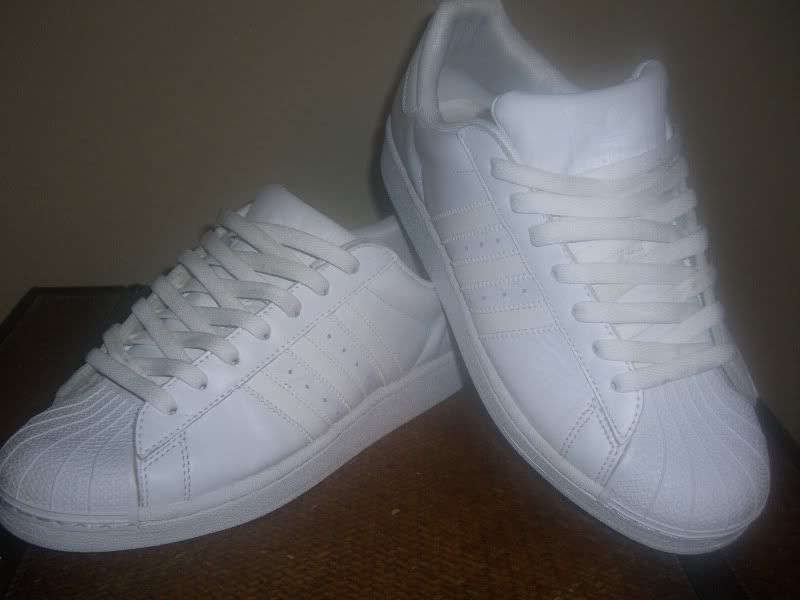 The all whites will be hard to find since they are pretty generic and are still available at our local Footlocker and Footaction. But man oh man, do I miss my reptile skinned Skates. I loved those!!!!
Sorry for the long story. But hopefully, you learned a lesson or two or three or more from it. My hopes was that finding the punks brave enough to wear my Superstars out in the public would get caught and if they got caught would lead to the rest of my stolen electronics. But that hasn't happened yet. Still missing my Canon Rebel with accessory bag that had (2) 8GB flash cards and extra battery and zoom lense, and my daughter's Nikon Coolpix. Oh,
one other lesson
..... as soon as you get home from taking pics with your nice camera whether you are on a family vacation or evening at the pub or just walking around enjoying nature, download the pics to your computer and then to an external harddrive as soon as you get home. My Canon still had some family pics on there that I just got too lazy to copy to my computer and back up on my external harddrive

Gone forever now.